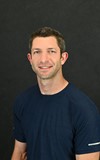 Nathan Boll
"If it's wrong, I'll make it right."
Owner and founder, Nathan Boll, established Lucky Dawg Cleaning with a promise to bring reliability and integrity to the janitorial and cleaning industry. His years of entrepreneurial experience have emboldened his commitment to provide clients a stamp of satisfaction they can depend on.
Every project is met with the same meticulous attention to detail and loyalty of a beloved K9, which served as the inspiration for Lucky Dawg Cleaning. Nathan embodies these attributes in his daily pledge to work diligently and relentlessly in all aspects of his business. 
Lucky Dawg Cleaning's diverse clientele can attest to the noticeable differences before and after their service. Find out for yourself what the true definition of clean can mean from a Lucky Dawg Cleaning treatment.
A service that redefines what it means to be clean
Let us clean for you...
Call us today for an estimate on your residential, commercial, or small business janitorial needs